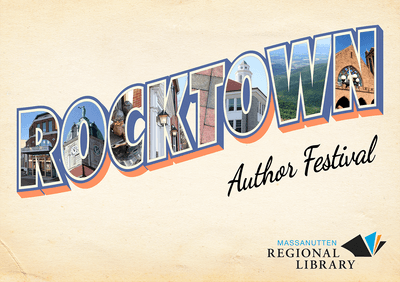 Exhibiting at the Rocktown Author Festival
Are you a local, published author interested in exhibiting at the 2024 Rocktown Author Festival? Applications from local authors will be considered from September 18, 2023 - October 29, 2023. Please review the guidelines below, complete the application, and click on the Submit button for consideration by the 2024 Festival Committee.
Author Submissions
Author participation in the 2024 Rocktown Author Festival is by invitation only AFTER an author application form has been submitted through our website and reviewed by the Festival Committee. The Committee will choose authors from those applications received by midnight, October 29, 2023. Incomplete forms will not be reviewed, and online submissions are required. Please read the submission guidelines below closely.
Important Dates:
·         September 18, 2023: Applications open
·         October 29, 2023: Deadline for applications (midnight)
·         December 15, 2023: Author invitations issued via mail or email
·         January 15, 2024: Deadline for invited authors to confirm participation and submit short biography, headshot, and table agreement
·         April 13, 2024: Rocktown Author Festival takes place from Noon – 4PM
Submission Guidelines:
Local authors interested in applying to exhibit at the 2024 Rocktown Author Festival must:
be a published author in MRL's service area of Harrisonburg, Rockingham County, and Page County, or in our Virginia bordering counties (Augusta, Albemarle, Greene, Madison, Rappahannock, Shenandoah, Warren) or West Virginia bordering counties (Hardy and Pendleton).
have published within the past two years.
complete the application form below.
adhere to Festival Committee's final selections and guidelines for exhibiting.
If invited to participate in the Rocktown Author Festival, some authors may be invited to do a reading or participate in a panel discussion. If you have expertise in these areas, please complete that portion of the application below. Please note that application submission does not guarantee Festival selection. Author selections are at the sole discretion of the Festival Committee, and all Committee decisions on author selection and Festival program format are final.
For more information about the Rocktown Author Festival Submission process, please read these Frequently Asked Questions.