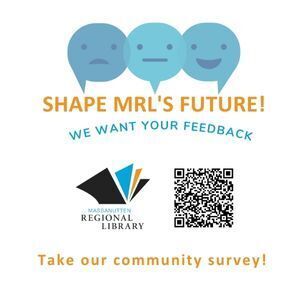 Massanutten Regional Library (MRL) is planning for the future and needs your help.
Join in MRL's 2023 Strategic Planning process by completing a short community survey and or attending one of our in-person Community Input Meetings held throughout the Shenandoah Valley this summer. Participation through survey or community meetings is anonymous, and your feedback will help MRL leadership prioritize strategic goals and objectives for the next five years and beyond.
The online survey will be live at this link through July 31, 2023. Printed surveys (in seven different languages) are also available at all MRL branch locations in Bridgewater, Broadway, Elkton, Grottoes, Harrisonburg, Luray, and Shenandoah during this time period.
Realice nuestra encuesta comunitaria ahora hasta el 31/7/23. Haga clic aquí para tomar en línea.
The public is also invited to attend MRL's Community Input Meetings, which will take place from 6PM-8PM at the following locations and dates:
June 6: Grottoes Town Hall: 601 Dogwood Avenue, Grottoes, VA 24441
June 13: Central Library Meeting Rooms – Harrisonburg: 174 S. Main St, Harrisonburg, VA 22801
June 20: Shenandoah Community Library: 418 S. Third St, Shenandoah, VA 22849
June 27: Village Library – Broadway: 175 N. Main St, Broadway, VA 22815
July 11: Virtual meeting* – *find Zoom link here
July 18: Elkton Community Center: 20593 Blue and Gold Dr, Elkton, VA 22827
July 25: Page Public Library – Luray: 100 Zerkel Street, Luray VA 22835
Aug 1: North River Library – Bridgewater: 118 Mt. Crawford Avenue, Bridgewater, VA 22812
Participants in community meetings will learn more about MRL's Strategic Planning process and will be given the opportunity to provide feedback on a number of strategic priorities, which will help shape the overall strategic plan. There is no need to register for the Community Input meetings, simply attend the one that suits best.
"Public libraries rely on the feedback of the public to help us serve our communities even better," stated MRL Director, Zach Elder. "It's important that we hear from people who use our library branches—but equally as important that we hear from folks who aren't currently using our libraries—so we can improve our services to better reflect what our patrons and communities need in a regional library system. By inviting the community to help us select our future strategic priorities, MRL can continue to meet its mission of being the 'welcoming heart of our community where all come to learn, discover, create, and connect.' We look forward to working with our community on this project and for MRL to grow and evolve with the communities that we serve."
MRL invites all residents, property owners, and people employed in its service area of the City of Harrisonburg, Rockingham County, and Page County to participate in this important process for MRL's future by attending a Community Input meeting. Questions about MRL's Strategic Planning process may be directed to: Zach Elder, Library Director at zelder@mrlb.org or (540) 434-4475 X 128.
About Massanutten Regional Library:
Founded in 1928, Massanutten Regional Library is a seven-branch library system that serves nearly 160,000 residents in Harrisonburg, Page County, and Rockingham County. MRL branches are located in Bridgewater, Broadway, Elkton, Grottoes, Harrisonburg, Luray and the town of Shenandoah, with administrative offices located at Central Library in downtown Harrisonburg, the system's largest branch. Library patrons have access to over 300,000 books, DVDs, audiobooks, eBooks, online learning and research tools, and other resources free of charge. Residents can obtain a free library card by visiting their local MRL branch. MRL is a fine-free library and does not charge fines for overdue items so that there is never a financial burden for anyone using the library system. As a 501(c)(3), nonprofit organization MRL is funded in partnership with state and local funding and through the generosity of patron donations.